Hello from KMGC HQ!
The weekend of the 12th & 13th November sees the traditional KMGC season ending double header of the Kent Invitational Tournament (KIT) final and the Kent Open taking place at the Lost Island Encounter in Sidcup.
Once again this year will see the now annual awarding of the VTK SHIELD to one of the club during this weekend. The VTK Shield was introduced in 2012 to recognise the KMGC Member of the Year. We are looking for the members of the club that have contributed the most to advance the club - this could be in a number of areas but ultimately we are looking for someone that exemplifies what the KMGC is all about.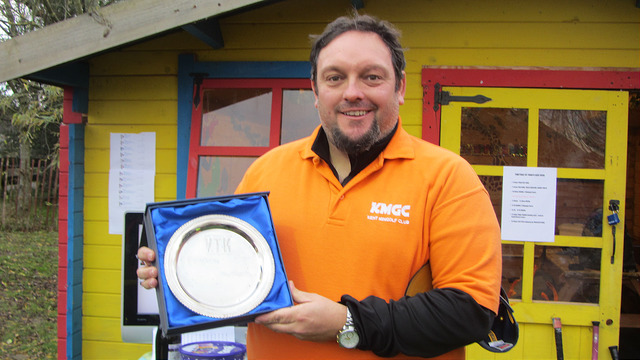 The proud recipient of the SHIELD in 2015
And for all members of the KMGC, this is where you have your say.
Each one of you can nominate current members of the club for this award - all you need to do is PM me on this forum or our Facebook feed or email via
admin@kentminigolfclub.co.uk
with your top 3 (in 1,2,3 order) along with any reason why the person(s) nominated should receive the award for 2016. There votes will be counted up (3 points for 1st place, 2 for 2nd, 1 for 3rd).
All nominations must be received by Tuesday evening on 1st November at the latest to enable us to work out who's won and to get the shield engraved in time for the following weekends festivities and the presentation.
Neither of the Homers or the reigning MOTY Scott, are eligible for your votes this year and we at KMGC HQ look forward to awarding the shield at the Kent Open to the worthy recipient for 2016.
This is a great part of our club season ending celebrations along with our KIT and KO events.
Thanks for your input and of course, as always...


Last edited by Freebird on Wed Oct 26, 2016 2:15 pm; edited 1 time in total